Key features and benefits:
1. made by high-tech moulding technology for plastic
2. surgical stainless steelwire from Japan or Germany orgin,
    automatic machine grinded needle tips to keep 100% comformity
3. keeping the needles shaft in the center of handle with enough bonding strength
    in order to get doctor's accurate insertion
4. the needle can be pended inside of the guide tube with rounded edges, this special 
    design makes doctor easy to use by single hand, the mixing up of used needles and 
    unused needles can be prevented
5. comfortable feeling grip with ease painless insertion
6. 100pcs per box, 1 needle with 1 tube
Dimension: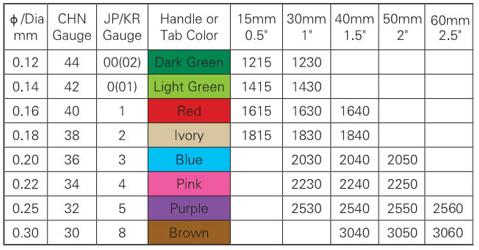 What is Dry Needling?
Dry needling is more commonly associated with myofascial pain or dysfunction and can be administered by a range of health professionals including specifically-trained physiotherapists and naturopaths. Dry Needles are inserted into 'trigger points' and the therapy is extremely effective in relieving tension pertaining to a range of musculoskeletal injuries. Trigger points are points in a band of muscle that produce pain when pressed. Having a registered practitioner insert a dry needle into these points can assist in relieving the pain in the area.
How to use: